I LOVE SNOW! Since January 1st we have had 8 days of snow. Beautiful, powdery, white, soft snow. Most of my time theses past few weeks has been spent homeschooling my daughters and then going outside to dig out. As of now we have about 3 feet on the ground. My chicken coop opens up to my goat pen so that the chickens have a lot of room to run around all day. The goats and chickens will not walk in the snow so I have had to dig pathways throughout their pen so they can move around and not be stuck in their shed all day. It has been a very interesting winter so far here in Central Oregon, last year we did not get nearly as much snow. I  am loving it!
So today I thought I would share my Crochet Snowflake Coffee Cup Cozy idea! I used my basic cozy pattern and then found a fantastic crochet snowflake pattern on Attic24.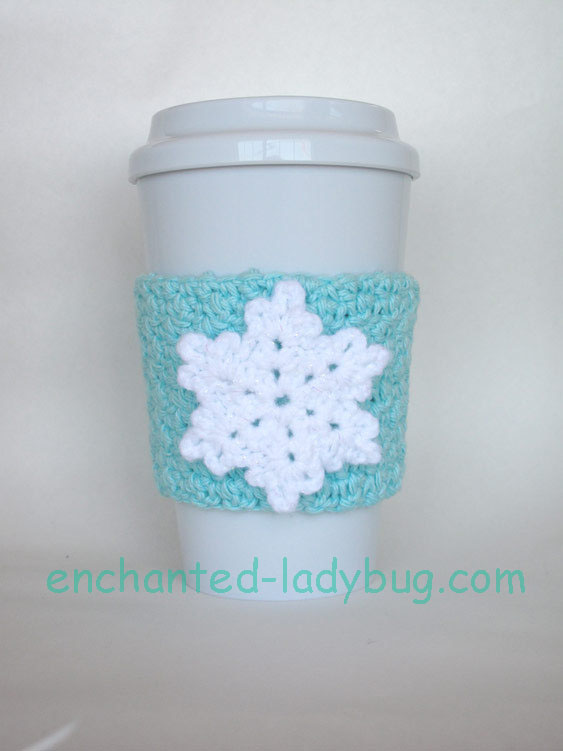 For the cozy pictured I used Lily Sugar 'n Cream in Robin Egg Blue. Then I used some white yarn for the snowflake. If you would like to make your own crochet snowflake coffee cup cozy, you can download my Free Crochet Coffee Cup cozy pattern below! For the snowflake, you can visit the Attic24 site here: Crochet Snowflake Pattern. The pattern is written in UK terms, so if you are in the US, you will be using a sc where it says to dc! Please share your pics on my Facebook or Ravelry pages. I love seeing my fans' work!
License: Personal Use Only
File Size: 92.9 KB
Format: PDF
Beautiful snowflakes!!