Valentine's Day is almost here and I wanted to be sure to get a quick pattern up to share with you all! I love birds, they are one of my favorite animals. This year I decided to make some cute little Valentine birds. I absolutely adore how they came out, oh  my goodness. After I finished, my oldest daughter and I were trying to come up with names for them. We decided that they would be called Mochi Birds because of their squishy, cute kawaii look. I plan on crocheting more Mochi Birds and building a little Mochi Bird family! I am super excited about this!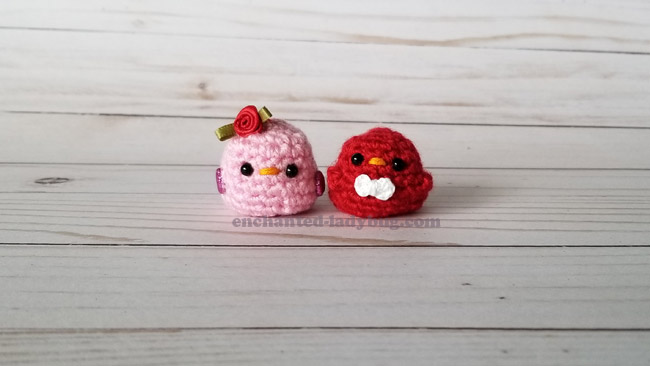 I finished the pink one first and just love her little face! I named her Felicia because that was the very first name that came to mind when I looked at her!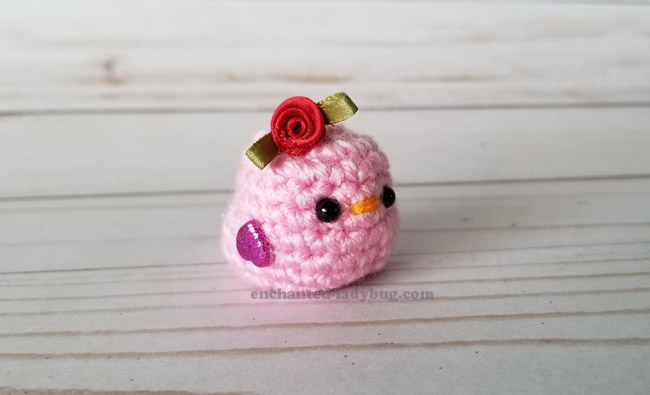 As soon as I had named her Felicia, I instantly knew that I'd be making a little boy Mochi Bird and naming him Frisco! When I was a kid my mom and grandma watched General Hospital religiously every day. The two characters, Frisco and Felicia, were my favorite. Everyone just loved Jack Wagner as Frisco. For me, those two names go together like peanut butter and jelly, Ben and Jerry,  Barnes and Noble, etc. LOL! Okay, enough of my rambling on about childhood memories, on to the pattern!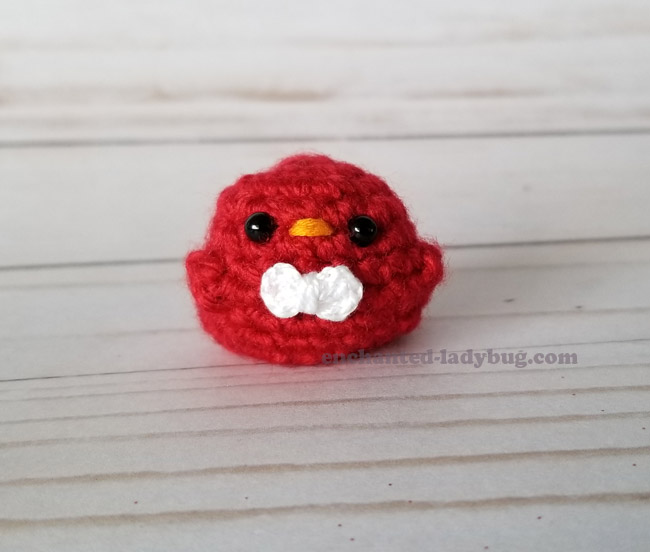 I wanted to keep the Mochi Birds pretty tiny (they measure at about an inch and a half tall!), so I used a 3.5 mm crochet hook and Hobby Lobby's I Love This Yarn! in pink and red. Any worsted weight red and pink yarn will work. The eyes are 4.5 mm amigurumi animal safety eyes from 6060 on Etsy. If you need any eyes or noses, this shop is a must see! Seriously, check them out HERE! You won't be disappointed. They have fantastic customer service and the hand painted eyes are so stunning!
For Felicia's wings, I used two little glittery heart buttons that I had in my button jar forever. Any little heart buttons would work. I used one of the Offray fabric roses for decoration on her sweet little head. Frisco's bow tie is crocheted with Aunt Lydia's Classic Crochet Thread Size 10 in white and I used a 1.3 mm hook.
You can download my FREE Crochet Amigurumi Valentine Mochi Birds Felicia and Frisco pattern by clicking the link below! As always, please share your finished projects with me on either Facebook or Instagram! I love seeing your work!! Happy Valentine's Day!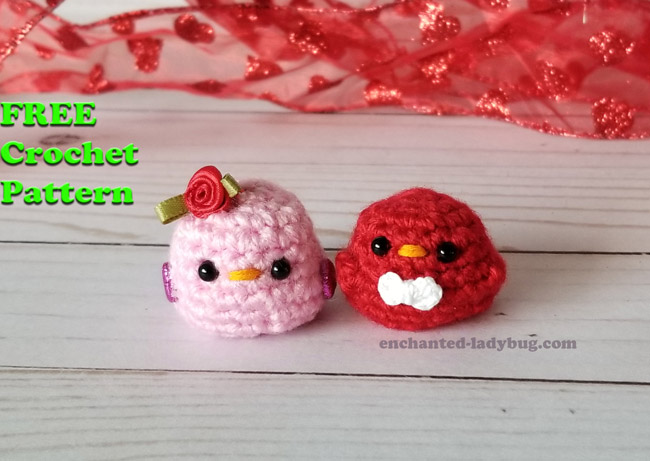 License: Personal Use Only
File Size: 656 KB
Format: PDF
Spread the love!