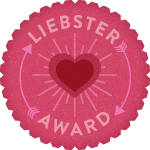 Wow! I was so excited when I got the post that I had won an award! I'd like to give a big thank you to Sara at My Merry Messy Life for giving me a Liebster Award for new bloggers!
What is a Liebster Award? It's sort of like a "chain mail"(not really) idea, to help you get more exposure and to help other new bloggers with less than 200 followers. Reminds me a lot of a sock swap and sticker swap I did a while back 🙂
Rules for receiving your award:
1. Post about your win on your blog.
2. Link back to the blogger who presented you with the award.
3. Copy and past the award button to your blog.
4. Present the Liebster Award to 5 blogs that have fewer than 200 followers that you think deserve to be recognized.
5. Let them know by leaving a comment on their blog.
So here goes! Here are my fantastic five 😉
Ruby and Ruth Creations~ Wonderful custom crocheted kids hats, blankets, baby items
Tampa Bay Crochet~ Adorable and sweet crocheted baby items, crochet patterns
Engineered Crochet~ Beautiful crocheted blanket patterns
Flowers Creations~ Great crochet patterns and yummy recipes
Digital Bake Shop~ Really cute digital clip art