I have been wanting chickens for a while now, especially since we moved out to the country. I had them growing up and they are such great little animals! So my family and I went to the local farm supply store last Monday and picked some baby chicks up! They are such sweet little creatures and are such great fun!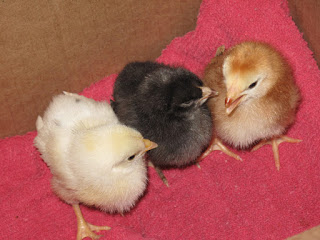 My oldest daughter named the white one Rosie, she is a California White. We think she's a few days older than the other two because she is bigger and her wing feathers are more developed.
My youngest daughter named the black one Blackie, she is a California Gray. Blackie is very intelligent and loves to climb onto high places.
The brown one is mine, I named her Alice. She is a Buckeye chicken and is very silly 🙂 I love these little ones so much! They have brought a lot of joy to our lives 🙂